Financial
Anchoring coverage for lost reputation value—the go-forward cost of emotionally charged stakeholders—are insurance policies led by the Lloyd's syndicate, Tokio Marine Kiln, and risk financing through captive insurance vehicles. The insurances tactically indemnify losses while strategically signal superior reputation risk management. All Steel City Re risk financing and transfer policies are triggered parametrically. Separate additional towers for non-damage business interruption, crisis management, and related losses can be readily integrated.
Determination of Qualification
Qualification for Steel City Re's parametric solutions begins with a review, generally completed in less than 45 days, of a company's quantitative measures of reputational health. Approximately 30% of public companies (and a much smaller fraction of privately-held companies) will qualify for coverage purely on an analysis of reputation health and risk implied by these quantitative measures.
The underwriting process itself places qualified companies in a class by themselves, providing transparent evidence of exceptional governance. This process also generates a pricing indication, subject to an underwriting process, involving a review of highest-level governance, risk and compliance protocols.
Coverage
The objective of coverage is strategic. Typical risk transfer policies provide coverage with limits capped at $100 million. While this limit is growing, levels of coverage as low as $10 million can have a strategically impactful expressive force to mitigate a reputational crises.
Additional instrumental value for loss absorption may be structured through a captive insurance vehicle. Combining financial modeling strategies with insights from behavioral and informational economics, Steel City Re has amassed—over a 20-year-timespan—a 7 million-element actuarial database that underpins our parametric reputation risk financing and insurance solutions.
To protect value and mitigate the peril, companies should augment and substantiate their enterprise risk management (ERM) story with a captive…before the onset of a crisis.
Triggers and Indemnification
Reputation Assurance and a form-following captive insurance policy are parametric solutions. A Reputational Value Loss is triggered by a failure of a scheduled enterprise level governance or Board oversight process, evidenced by both negative media and a 20-week sustained drop in the Insured's Reputational Value Metrics.
Levels of indemnification for risk transfer are typically structured so that the Gross Premium is in the vicinity of 1% rate on line. Levels of indemnification for captive insurance vehicles typically lead to higher Gross Premiums.
Typical Indemnification Scenario
An insured sustains an operational failure in one or more areas felt to be the duty of senior management and the board to oversee, such as ethics, innovation, quality, safety, sustainability, and security. The failure sparks stakeholder outrage that is memorialized in the media.
Within 90 days, the reputational value metric (parameter) falls below the first Loss Gate. Two weeks later the parameter drops below the second Loss Gate. Twenty weeks later, the parameter has consistently remained below the 2nd Loss Gate thereby meeting the parametric condition for indemnification at the second Loss Gate that typically pays 40% of limits. No extenuating circumstances are noted, so the claim is honored anywhere between 22 and 40 weeks from the triggering event.
Reputational risk is a concern for every company, organization or individual in corporate leadership. Let us help develop your strategy for reputational resilience.
"Developed by advisor to Lloyd's Tokio Marine Kiln to combat dread of reputation risk, algorithm (INDEXCME: REPUVAR) beats Blackrock (NYSE: BLK) MSCI ESG ETF (NASDAQ:…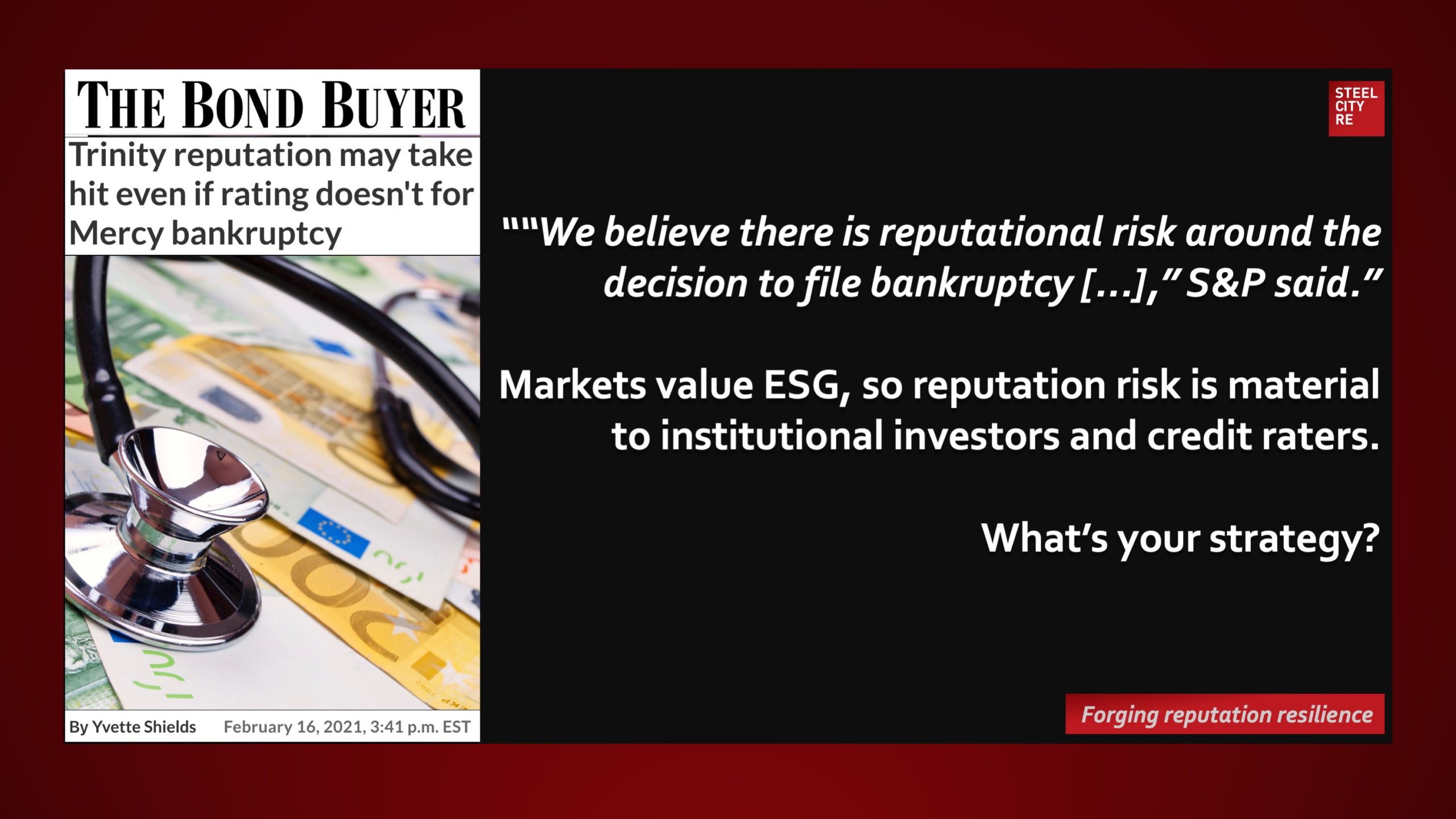 "Michigan-based Trinity Health's rating remains unchanged after its decision to unload Chicago-based Mercy Hospital through a Chapter 11 bankruptcy but the decision that has faced…