Risk Management
Reputation risk is an enterprise-wide family of perils requiring a systems solution comprising a process distinct from operations risk management, marketing, or crisis communications, yet seamlessly dovetailing with them. Steel City Re has solutions for reputation risk governance and enterprise-wide reputation risk management that empowers a firm's risk management apparatus with policies, practices, procedures, communication tools, and indemnification instruments.
Advisory Business Purpose
Reputation risk management can help mitigate the risk of an adverse event from blossoming into a full-blown reputational crisis while at the same time mitigating a reputational crisis from expanding and attracting the interest of activists, litigators, and regulators.
It can also increase situational awareness when cultural and social changes begin to shift and suddenly transform previously tolerated events into adverse events with reputational consequences.

Best of all, as proven by Apollo Global, the right reputation risk management framework disclosed transparently to your stakeholders transforms the expanding morass of 21st century perils into an asset that is valued by analysts, institutional investors, bond and ESG raters. At the same time, earnings multiples may be boosted.
Process and Deliverables
There are two potential phases. In Phase I, the first five process elements comprise Stakeholder identification, Expectation intelligence gathering, Gap Analysis, Options analysis, and Expectation optimization strategy. Deliverables in the course of execution include a schematic for going-forward policies, practices, procedures, communication tools, and indemnification instruments that enable a company's enterprise reputation risk governance and management apparatus fulfill its mandate and tell a credible story to stakeholders. The systems solution is based on the following conceptual schema:
The Phase I deliverable is a report usually, generated within one month, is at once:
A roadmap for the reputation risk aspects of ERM.
A path to D&O liability exculpation under an expansive reading of Caremark.
A simple communication tool that will enable the client's risk management team to relay the essentials and benefits of reputation risk management.
An application for insurance underwriting for both risk financing and risk transfer.
The Phase II deliverables comprise the process of structuring and launching a comprehensive reputation ERM capability with operational and governance professionals whose areas of responsibilities are within the scope of the report's findings. We refer to this critical team as the Integrated Reputation Group (IRG).
Those in the IRG are working on a cross-silo basis. They are (typically) placed with the company's departments of risk, law, compliance, communications, investor relations, finance/treasury, marketing, diversity, social responsibility, purchasing, community relations, and human resources.
The deployment impacts the enterprise risk management apparatus (governance, leadership, controls, and insurances) and increases its situational awareness of external changes that may create reputational risks that are cultural climate-related. IRG leader, typically counsel, treasurer, or head of ERM, assumes a role analogous to the Director of National Intelligence. The composition, timing and scope of the deployment are bespoke and tailored collaboratively with the client.
Reputational risk is a concern for every company, organization or individual in corporate leadership. Let us help develop your strategy for reputational resilience.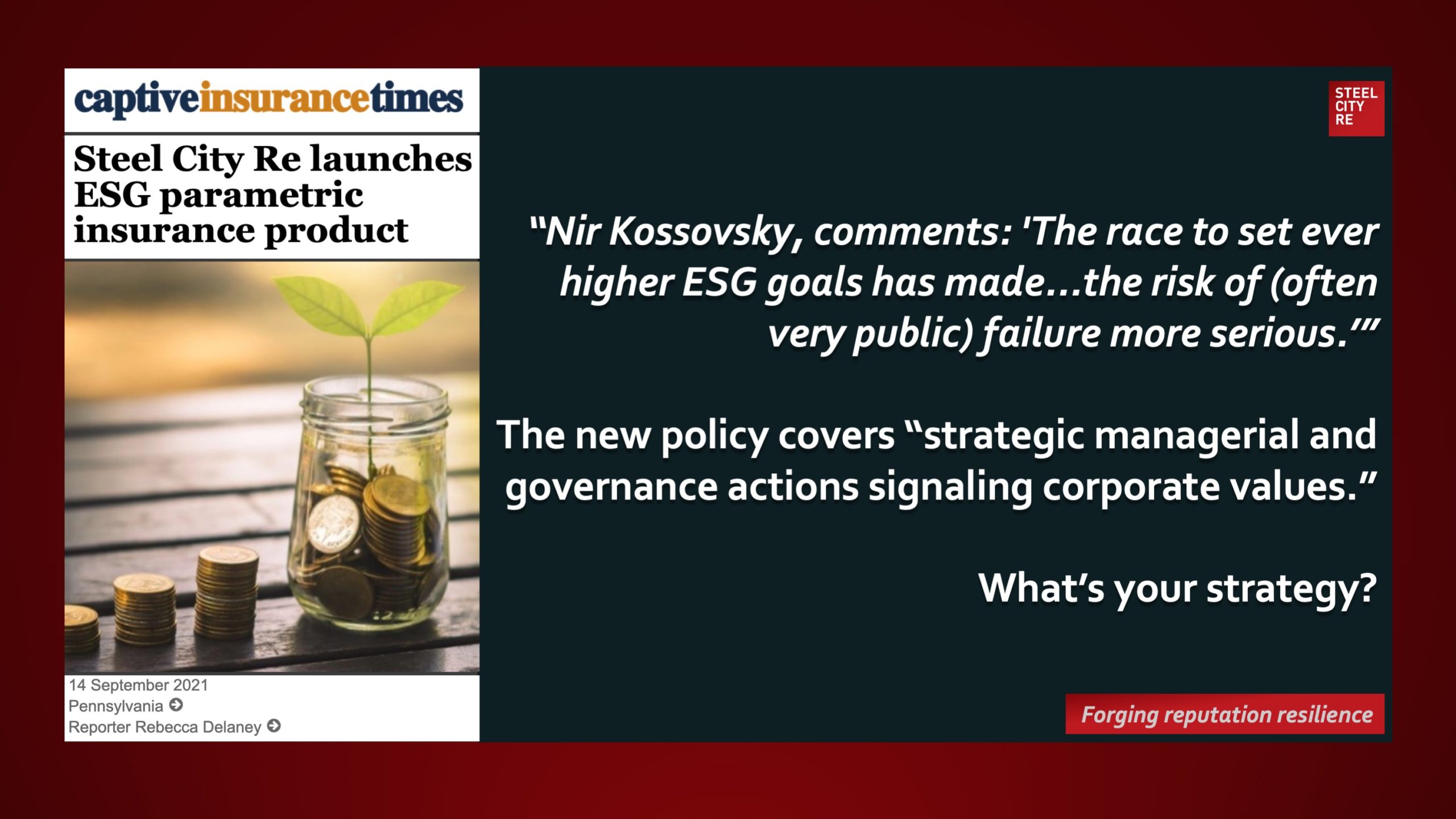 "Steel City Re has launched a new insurance product centred around environmental, social and governance (ESG) activities to provide protection to boards of directors. As …
"Chief Legal Officers are in a unique position to shepherd their organizations toward reputation resilience with intelligence gathering and operational alignment that will create an …