Team & Culture
Nir Kossovsky, Founder and CEO (left)
Peter Gerken, Co-Founder and Senior Vice President
Denise Williamee, Vice President Corporate Services (not shown)
Nir Kossovsky, an authority on business process risk and reputational value, co-Founded Steel City Re with Peter J. Gerken, a seasoned insurance industry professional specializing in captives and intangible asset risk.
Dr. Nir Kossovsky has been a leader in the development of operational intelligence-driven risk governance and management systems; and indexed measures of reputational value and actuarially sound underwriting methods that asses the effectiveness of those systems in protecting companies and their leadership. He is a frequent lecturer, has written hundreds of articles and four books, and is often called upon by the media for expert analysis of reputational crises.
Dr. Kossovsky has degrees in philosophy of science, business, and medicine, and certificates in colloid chemistry and national security decision making. He served as a Captain in the US Navy Reserves and, early in his career, was a tenured faculty member at UCLA. He holds a number of patents in applied surface chemistry and medical sciences.
Peter J. Gerken, a certified property and casualty underwriter is Senior Vice President, Risk Transfer Agency and Insurance. Mr. Gerken heads broker relations and client development, working with Brokers, Captive Managers, and Risk Managers. He jointly heads underwriting. A Vietnam veteran, Mr. Gerken has been in commercial insurance for some 40 years both on the underwriting and the brokering sides of the business. Holding an MBA in Management, he has specialized in Intellectual Property, and Intangible Assets including reputation for many years. Mr. Gerken formerly headed the Intellectual Property practice at Marsh.
Denise Williamee, who joined the leadership team in 2020, heads client relations and education. She also plays a leading role in client underwriting. Ms. Williamee's broad experience is mostly in the legal industry including federal, state and administrative court systems in the areas of insurance, civil and criminal litigation.
Previously, Ms. Williamee founded and operated a successful multi-location, full-service private investigation firm, served as the President of the Alaska Investigator's Association and served on the board of Directors for the Alaska Innocence Project. She holds an AAS in Paralegal Studies (cum laude) from the University of Alaska at Fairbanks. Ms. Williamee is an Associate member of the Chicago Bar Association, serves on the national RIMS DEI&B committee and is a member of National Association for Corporate Directors.
Culture—the ideas, beliefs, and practices of an organization—guide governance decisions ranging from executive selection through strategy, budgeting, and risk management. Our practices are powered by the ideas and beliefs shared below.
We walk our talk, adhering to the same values that build exceptional reputational strength and resilience among our clients. The majority of stakeholders – customers, employees, vendors & suppliers, creditors, investors, regulators – all value ethics, quality, safety, security, sustainability, and innovation.
"Consistency is the true foundation of trust. Either keep your promises or do not make them."

Roy T. Bennett
We believe that process controls—auditable, reliable, and repeatable methods—are necessary for solutions that depend on trust. Trust, in contrast to hope, is what stakeholders give when they believe that their expectations will be met. We believe that as a strategic intangible asset, reputation is what stakeholders appreciate and value most.
We define the elements of reputation and the services we provide this way:
Reputation Value: the going forward economic benefit of your stakeholders' expectations.
Reputation Risk: the threat of economic loss from angry disappointed stakeholders.
Reputation Crisis: the loss of economic benefits when, with expectations unmet, your stakeholders are disappointed and angry.
Reputation Risk Management: A strategy informed by behavioral economics to prevent a reputational crisis by minimizing governance and operational risks arising from gaps between stakeholder expectations and reality. The strategy involves the entire risk apparatus: governance, leadership, controls and insurance.
Reputation Insurance: parametric indemnification which will reduce expected economic losses and consequences from a crisis.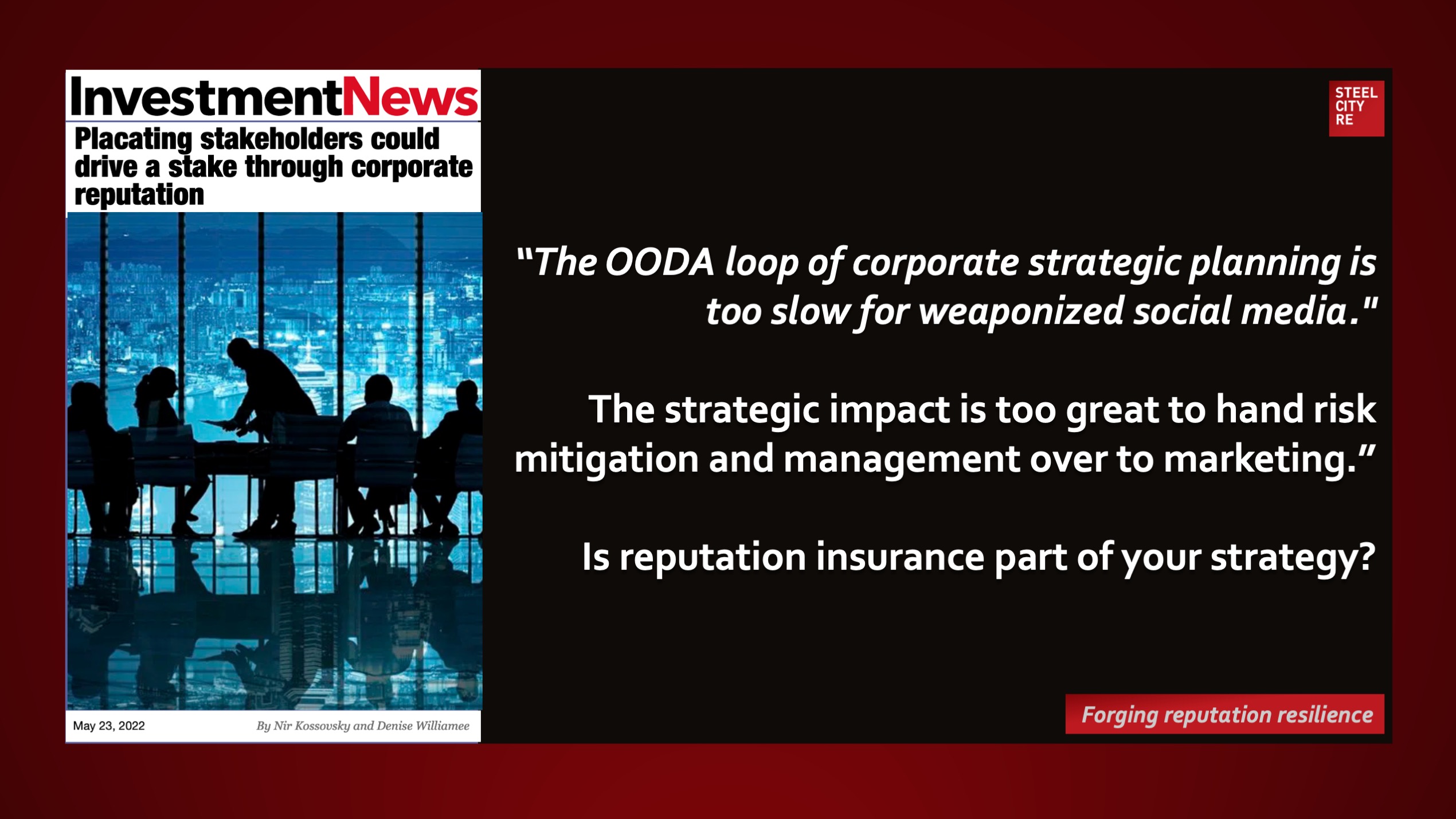 "Companies need a risk governance and management upgrade. Companies need to be able to recognize changing facts on the ground, assess corporate values and capabilities, …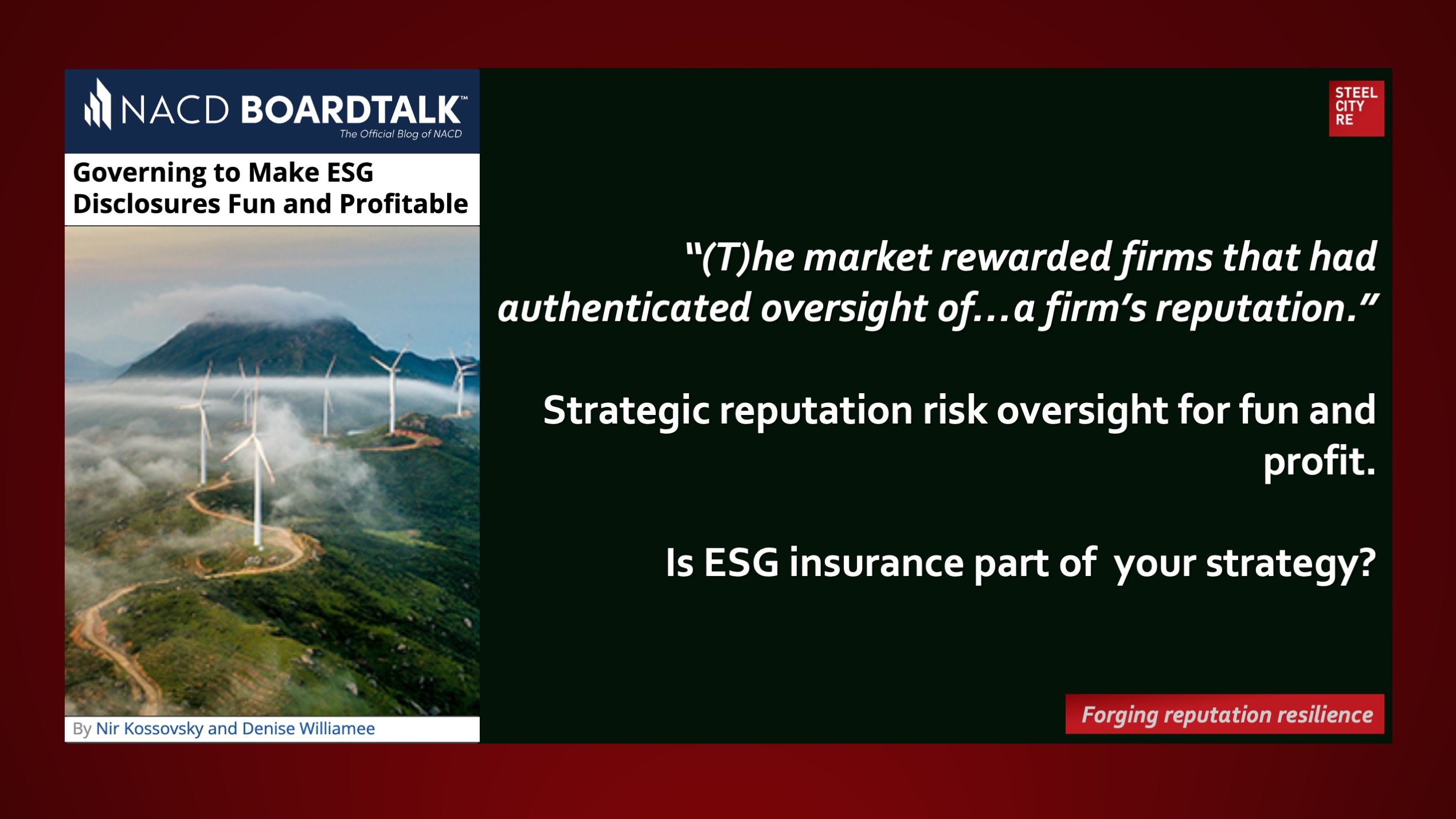 "As insurers of ESG and reputation risk, we've seen boards blindsided by tactical distractions to the type of major strategic reputational issues that In re Caremark …