Risk Assessment
Steel City Re's reputation risk assessment is a unique service that addresses two mission-critical governance and risk management questions: what are our reputational exposures, and do they matter (so what?).
Foundations of a Reputation ESG Strategy
Through our reputation risk assessment, we help clients build their risk register by leveraging our behavioral economic framework to identifying reputation exposures. Today, reputation risk hazards lurk in "ESG," "CSR," and more broadly, ethics innovation, safety security, sustainability and governance. Then we help our clients focus their mitigation activities by leveraging our 7.6 million element database to both determine the materiality and project the time course of reputational value loss in the event of a crisis.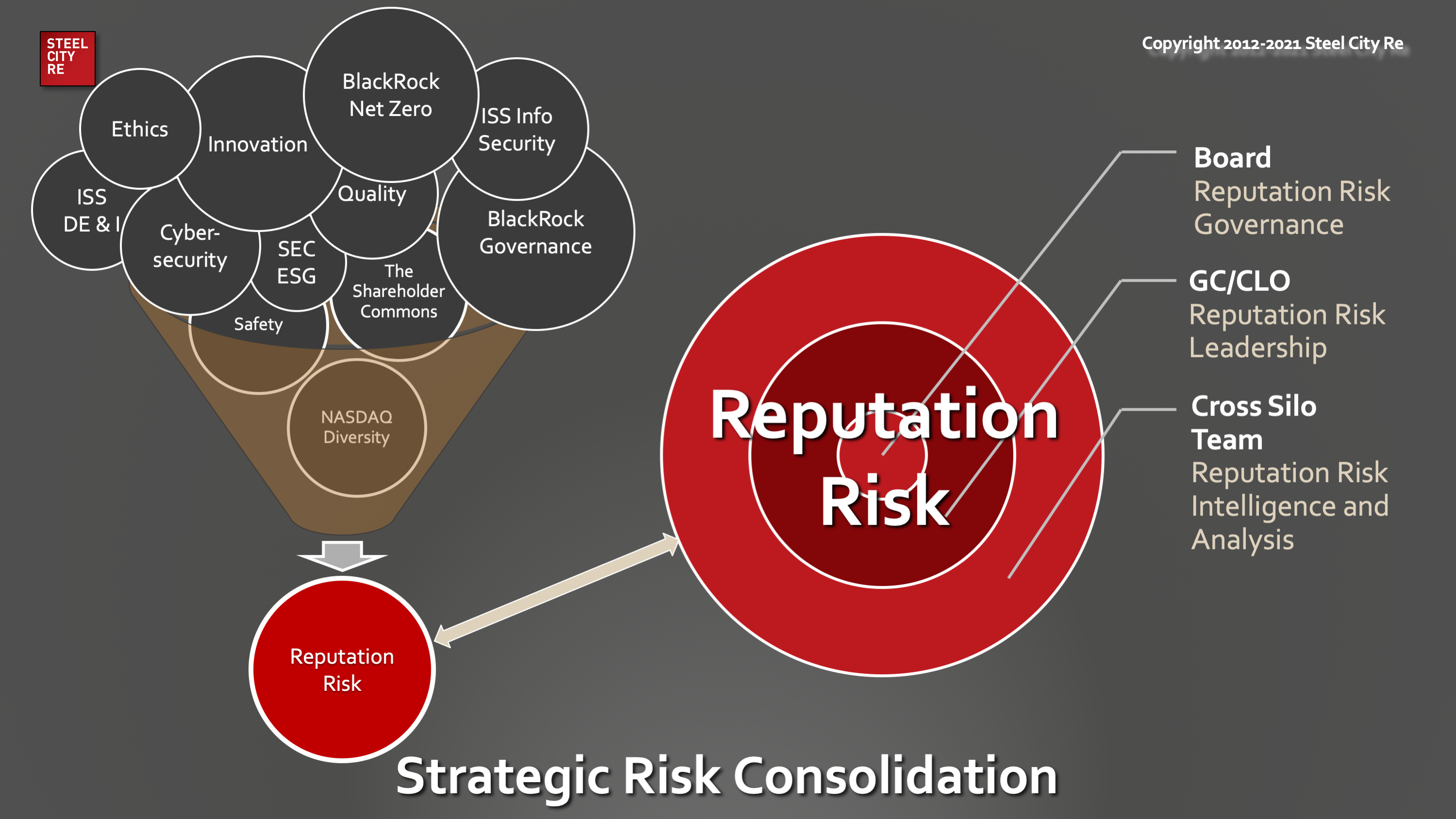 A successful reputation risk management strategy, CSR strategy, or ESG strategy enables a firm to tell its stakeholders a simple, easy to understand, and completely credible story that it is exercising superior governance and is in a state of managerial control over that which is mission critical. The journey to this valuable state begins with an assessment of the current state of the enterprise reputation risk management apparatus; i.e., its governance, leadership, controls, and insurance.
The benefits of the journey whose endpoint is an authenticated story stakeholders can appreciate and value are material:
improve risk management efficiency and reducing costs by reducing the severity of certain E&O and D&O exposures from derivative and securities litigation;
improve board oversight of mission-critical issues outside the usual scope of operational, legal, and financial risks in a Caremark post-Marchand world;
improve the management and mitigation of Jack-in-the-Pandora's-Box of risks that run across the enterprise;
better integrate the risk management and communications functions to improve ESG implementation; and
elevate the brand, improve the P/E multiple, and boost equity value.
Reputational risk is a concern for every company, organization or individual in corporate leadership. Let us help develop your strategy for reputational resilience.
The U.S. Department of Labor has now launched an investigation and said it will hold not only companies that employ child labor accountable, but the …
ESG rhetoric pledge regrets. With ESG becoming as important to some companies as EBITDA and marketing departments ramping up the ESG rhetoric, the effective …